May 16, 2020 - HAPPY WORLD FIDDLE DAY!!! Since we are all still in isolation, we've decided to do a CD release in a very different way this time. We are making a series of videos of tunes from our NEW ALBUM 'Blue Fiddle'. Here is the first one called: One Track Zach and Gravel Walks.
We hope you like it and if you do, check out our new album we are so proud of! Online sales will be available next week, and if you'd like a physical cd, email us and we'll pop one in the mail to ya! Stay safe out there folks & Happy FIDDLING! 🎻❤️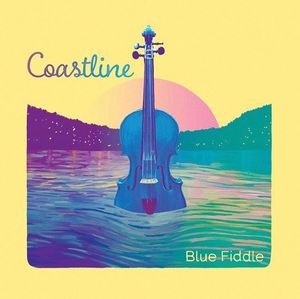 Mar 2020 - Well...who would have thought one of our busiest Springs to date, including our CD release concert, would end up with the world on lockdown because of the corona virus! Our hearts are heavy and go out to everyone suffering from this crazy situation! But, we are trying to stay positive and are still working towards some fun new projects...all while rehearsing together-apart! Here's a little glimpse of what our zoom rehearsals are looking like these days! We even have some new and old Coastliners now joining us which is awesome!!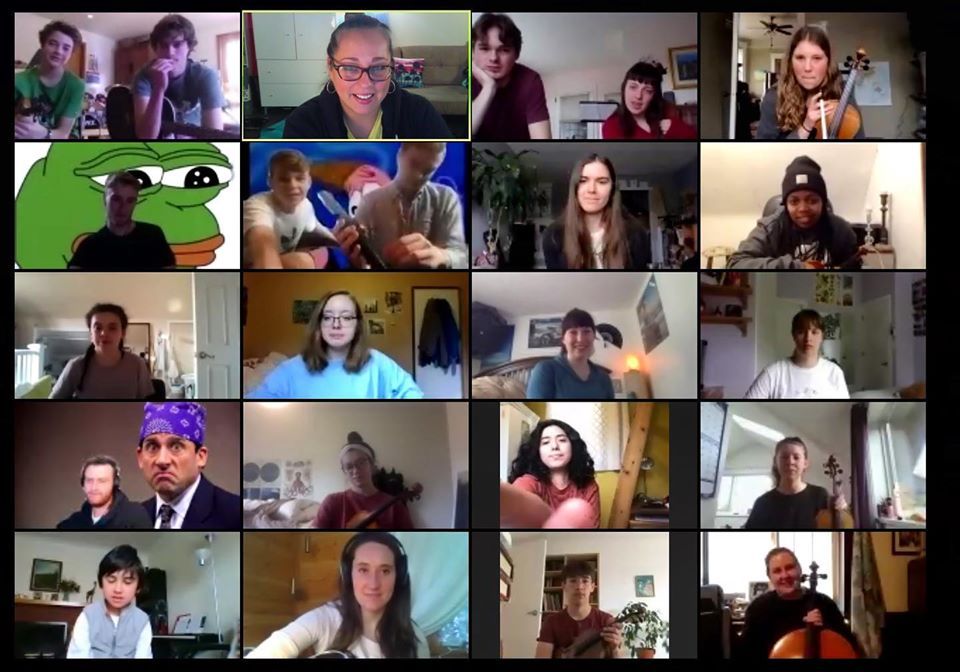 Feb 2020 - Here we go again! It's Trad Weekend and the beginning of what is going to be a SUPER fun and busy Spring/Summer! We can't wait! What a killer lineup once again our teacher Ivonne is bringing to Victoria! And, we have the absolute honour and thrill of learning from all of these amazing players and doing a little showcase set at the concert on the Friday night!!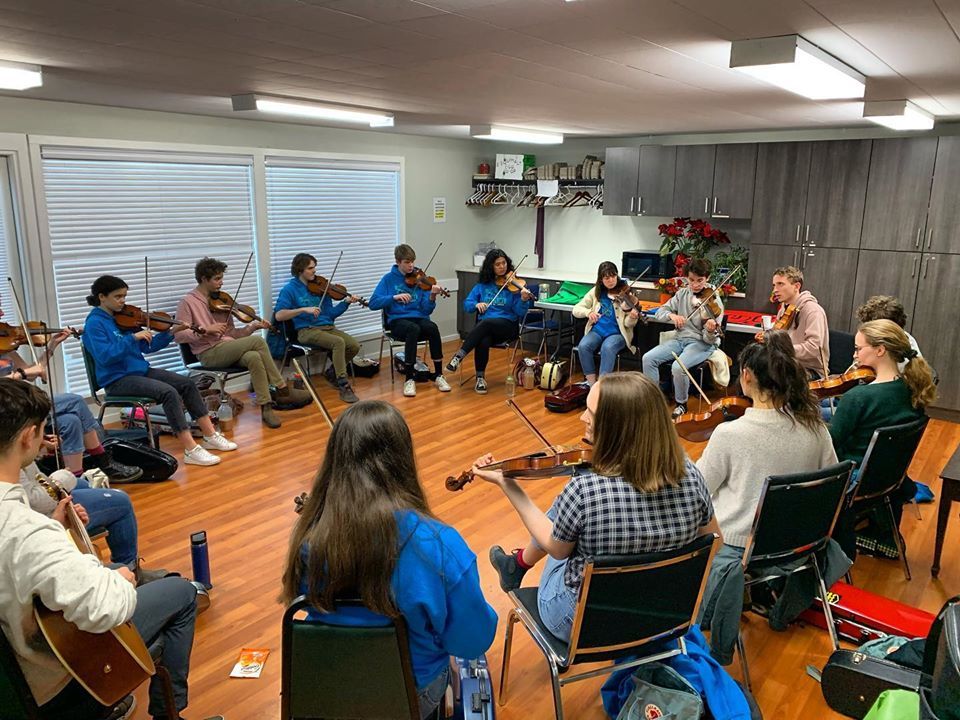 Dec 2019 - We've just had the BEST weekend fiddle exchange with Bad to the Bow on the Sunshine Coast (BC). It was a bit of an adventure to get there...as 1/2 of us missed the first ferry...but we all made it eventually, later that night! We were welcomed with a fun jam and get to know each other games. We had rehearsals to learn each others tunes, we all learned some new tunes, we jammed, had yummy potluck dinners, walks, played some shows for seniors and ended the weekend with a big joint performance in Roberts Creek, to a packed hall! And...it even snowed for us on the last day and it was very exciting for us...and very beautiful! Thankyou SO much to Bad to the Bow and Gabriel Dubrieul for being the best hosts! We can't wait until May for when they come to Victoria!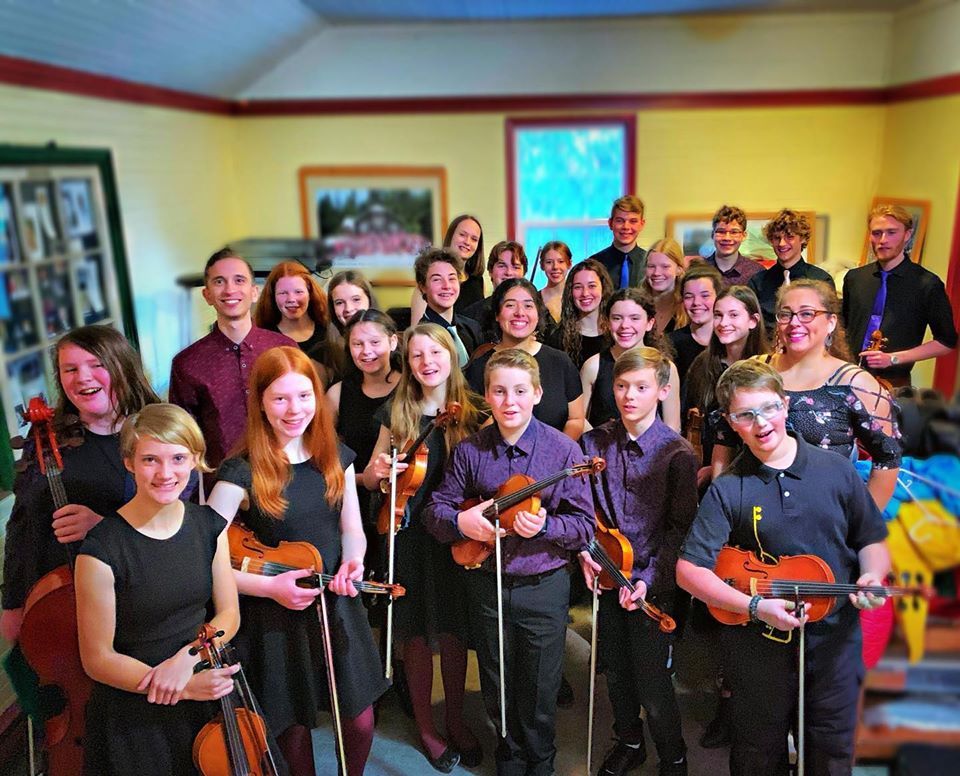 Nov 2019 - We've had a busy and fun fall! We just finished our yearly weekend retreat and it was such fun. A giant pyjama party/jam/hangout all weekend long! We jammed, we cooked, we hot-tubbed, we played games, we wrote tunes and we can't wait until we can do it again!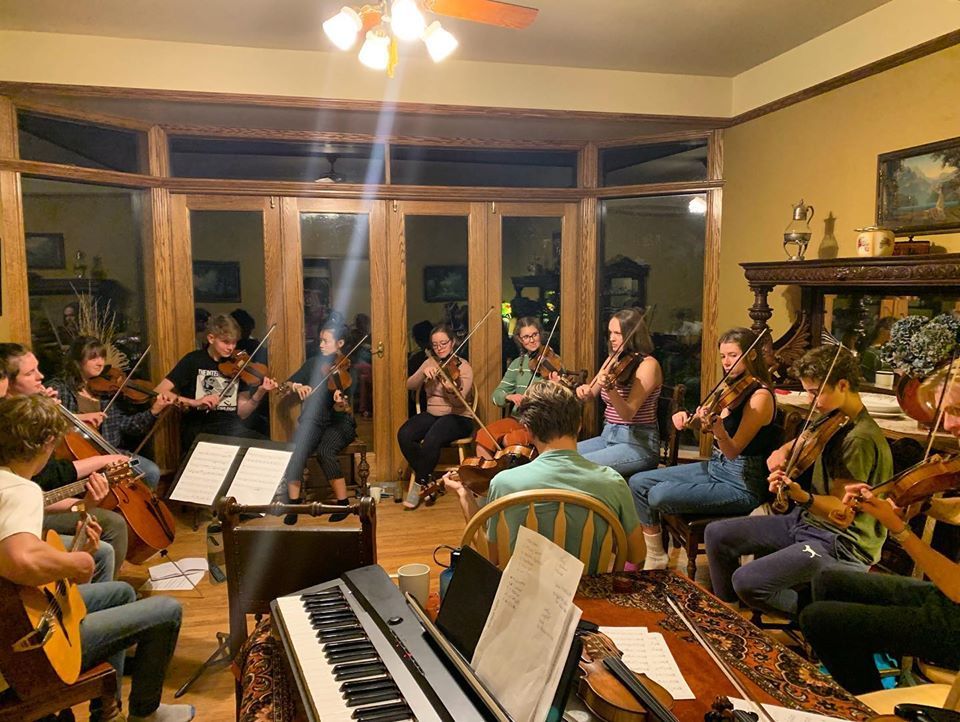 Sept 2019 - We've all had a fun and adventure filled summer and are excited to get back together and make some more music! Welcome Abby, Rosie and Tamsyn to the Coastline crew!
July 2019 - We are taking it easy this summer with gigs, as we've had a crazy year up till now, but we are working on our NEW ALBUM!!!!!!!!! We have one great show in July at Government House on the Lawn and we've invited a little special guest, 7 year old phenom Max Francis to play with us. We hope you're all having a great summer!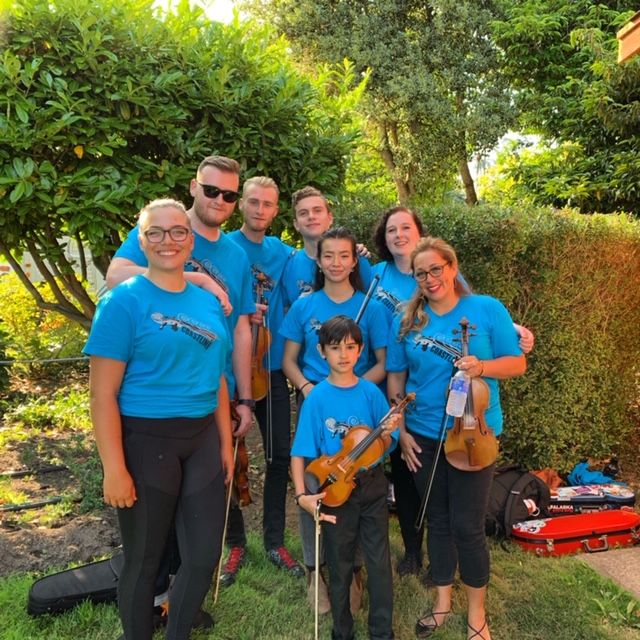 May 2019 - HAPPY WORLD FIDDLE DAY!!!! We had a crazy weekend performing a few times at the Victoria International Highland Games, World Fiddle Day events and going into the studio to record...our NEW ALBUM!! Also, we had our BIG CONCERT at Dave Dunnett Theatre! It couldn't have been a more crazy amazing month, but we had a blast and loved every bit of it. Thanks to our special guests, Jenny Lester, Troy MacGillivray, Abby McClusky and Max Francis for performing with us! Thankyou to everyone who came to our show(s) and for the endless support!!! ❤️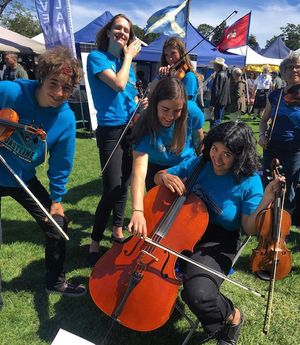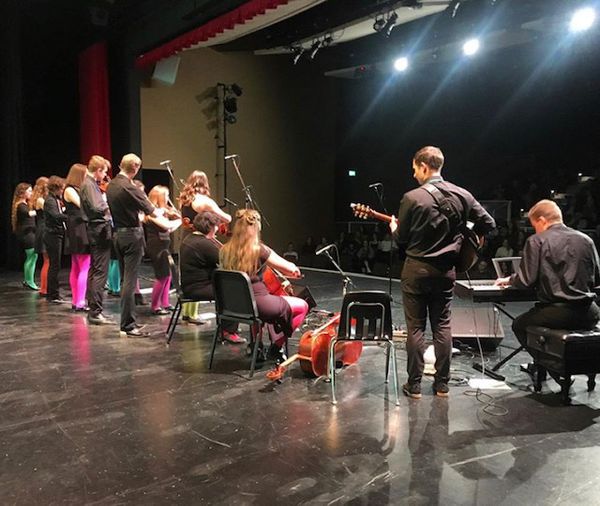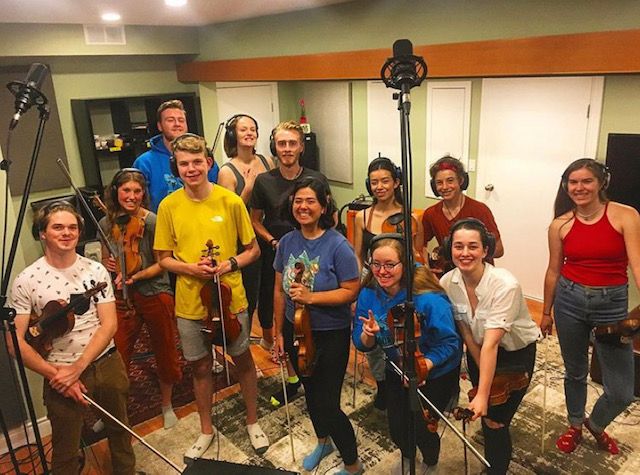 April 2019 - Merci Beaucoup to Pascal Gemme who came out to Victoria for the weekend from Quebec to teach us a bunch of Quebecois tunes. What an absolute blast to play, sing, and dance to those crazy Quebec tunes. We LOVED it! Music Festival Season is upon us and we are honoured to WIN the best Ensemble this year! It was an awesome day of fiddling and we are so proud to be a part of this vibrant fiddle community!
This is a pic of us backstage at a gig the moment we found out we had won!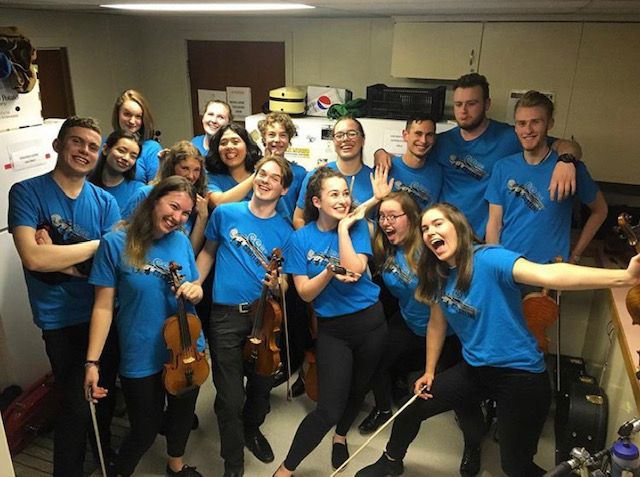 March 2019 - It's the month of the year where everyone wants to play fiddle and be Irish! We had a big weekend of St. Patricks Day Shows and what a blast it was! Thanks to Ivonne for having us as guests at her shows again and to those who came out the the Paddys Day Party downtown. We were thrilled to play a bunch of tunes we learned in Ireland last summer! Great Craic as they say... ;)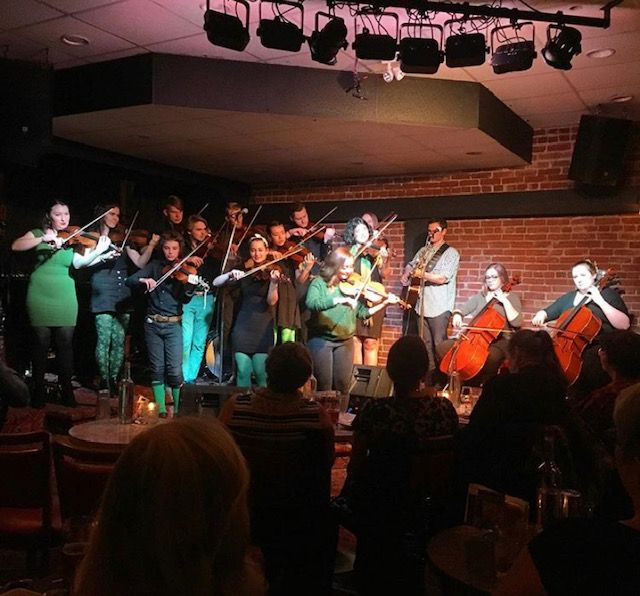 Feb 2019 - TRAD WEEKEND!!! What an amazing event put on by our very own teacher, Ivonne Hernandez. We shared the stage with some of our fiddle heroes, Calvin Vollrath, Shane Cook, Troy MacGillivray, Daniel Lapp, Oliver Swain, Miriam Sostenes, Tad Ruszel and of course Ivonne. What an epic weekend of the best traditional music/musicians in the country. We are so honoured to have worked with them all and are so excited to have a TON of amazing new tunes now!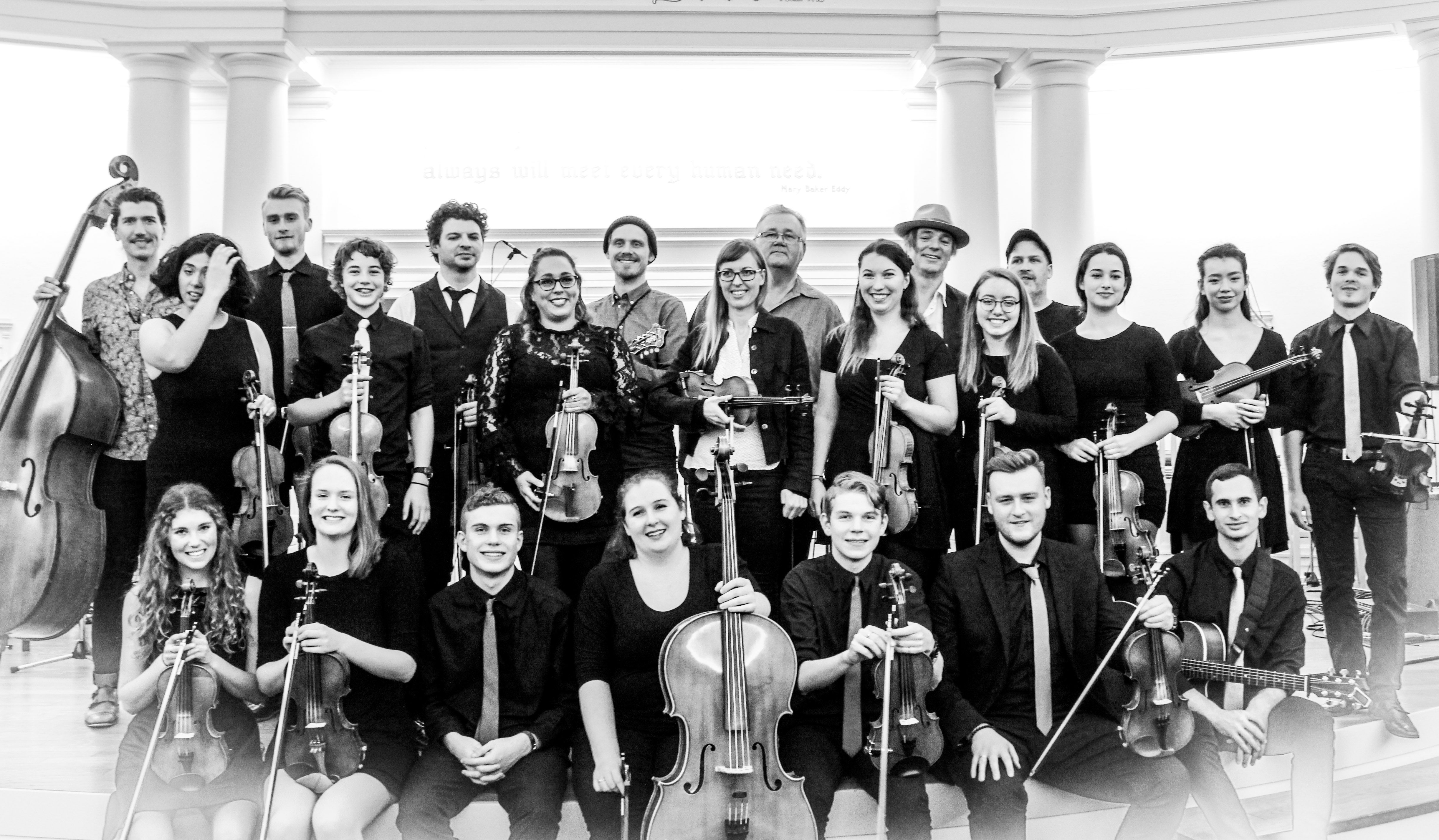 Feb 2019 - Happy New Year to you all! We had a super fun time at the Youth Fiddle Summit in Nanaimo, BC with 3 other fiddle groups (Nanaimo, Whitehorse and Vancouver). We made new friends and learned great tunes but, we had a very dramatic trip back home. We got caught in a freak snowstorm and it took us over 7hrs to get back home on the usual 1hr journey. This is after we pushed cars out of the parking lot! We made the most of it and had a snowball fight on the side of the highway when we were stuck there because they closed it for a few hours! Memories and great stories for years!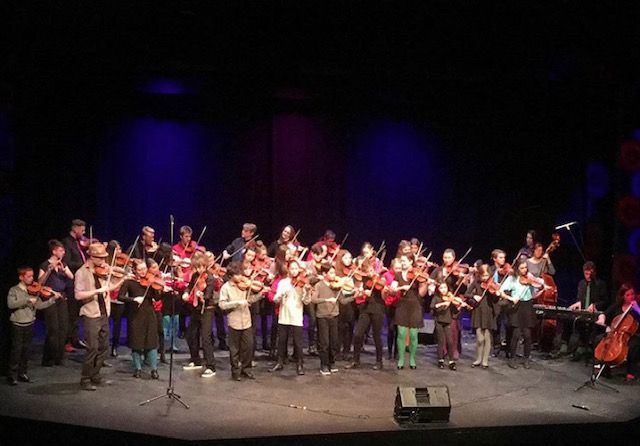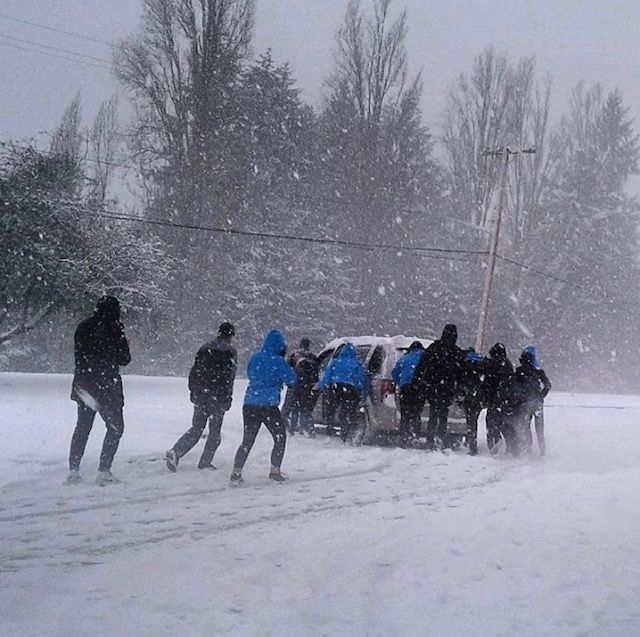 Dec 2019 - WOW! What an AMAZING experience it was to be the special guests with Natalie MacMaster and Donnell Leahy on their Christmas tour. We played 3 shows on Vancouver Island with them and the family and we love them to bits. Amazing musicians and the nicest people! Thanks so much for having us, we had a blast!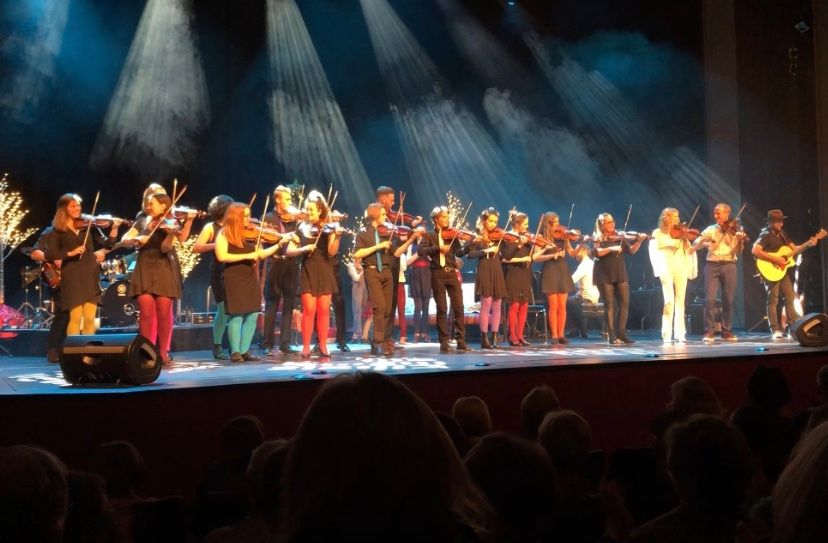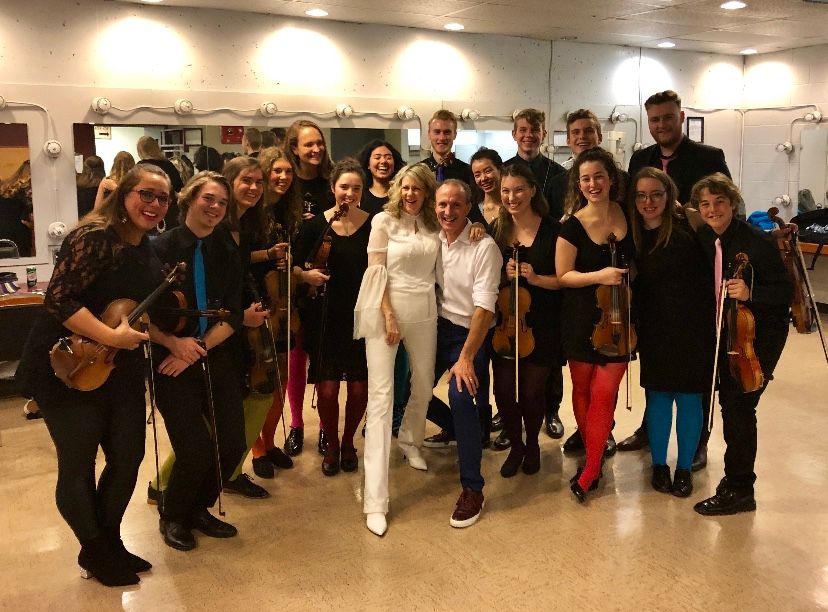 Nov 2018 - We had a super fun Coastline Retreat weekend, where we all made food for each other and got to hang out and play tunes and practice and play fiddle tune charades and go in the hot tub and have massages and fiddle, fiddle, fiddle! So much fun!!!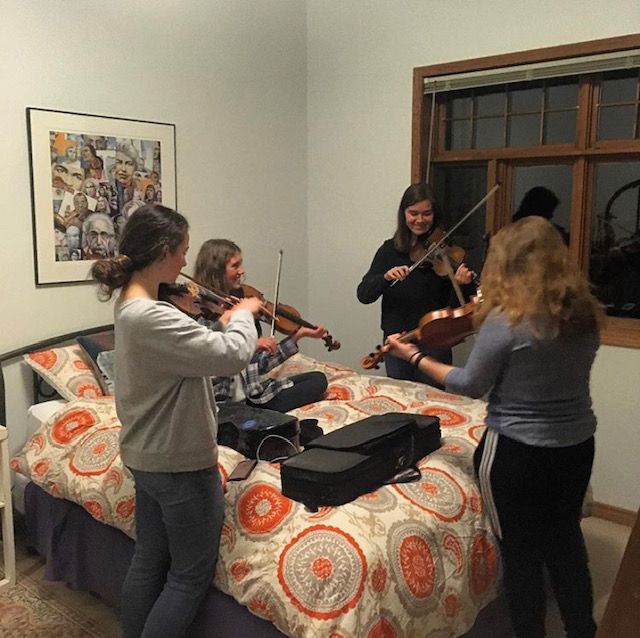 Sept 2018 - Back at it! We are looking forward to an exciting and busy year coming up! Stay tuned....
July 2018 - HAPPY CANADA DAY FROM IRELAND!! What an absolutely amazing tour so far. So many tunes, adventures, new friends, amazing musicians and we just happen to be here during an Irish heat wave! 32c every day! What a blast! Check the photo page for pictures! :)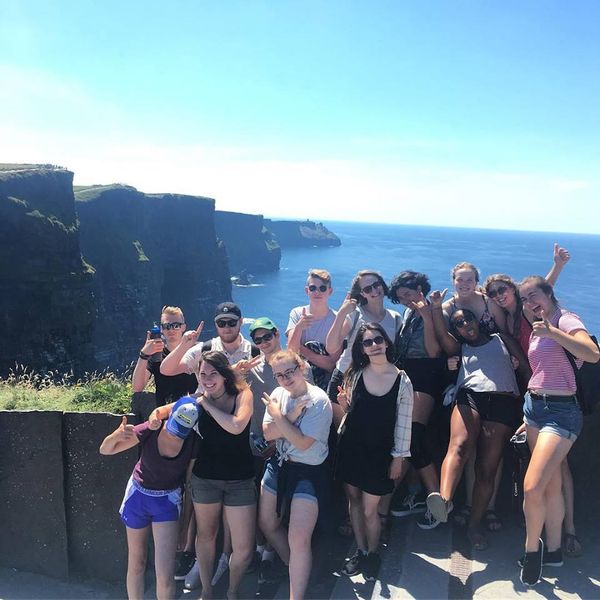 June 2018 - Come on out for Coastline's Annual Fundraising concert for our tour to Ireland! We are SO excited to have our Irish friend Terry Boyle sing with us and share some of his Irish wisdom and humour! Also the ever amazing Anne Louise Genest will also be singing some new songs from her new album! And of course our amazing music director Ivonne Hernandez will be fiddlin and dancing up a storm! We can't wait!!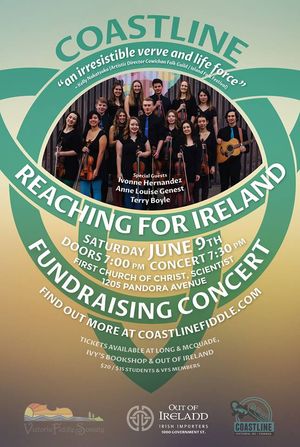 April 2018 - We are super excited to be playing some shows 'Up Island' in Comox and Port Alberni. We haven't been there yet but know there are lots of fiddlers up there and can't wait to meet them! We are also looking forward to playing at the Victoria Folk Music Society as the Feature Performer! What a lovely and supportive group of people to play for!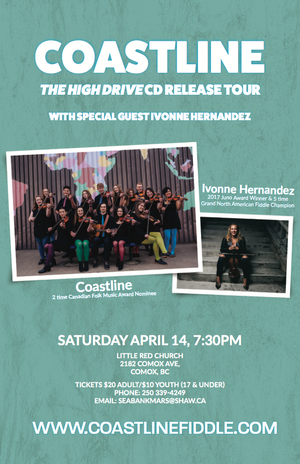 March 2018 - It's a busy time for us! We had the amazing Kevin Burke come and teach us some fun Irish tunes in preparation for our trip to Ireland this summer! Also, we got to open for our friends Alasdair Fraser and Natalie Haas and play a few new tunes for them. It's also St. Patricks Day and boy do we have some super fun events lined up for that!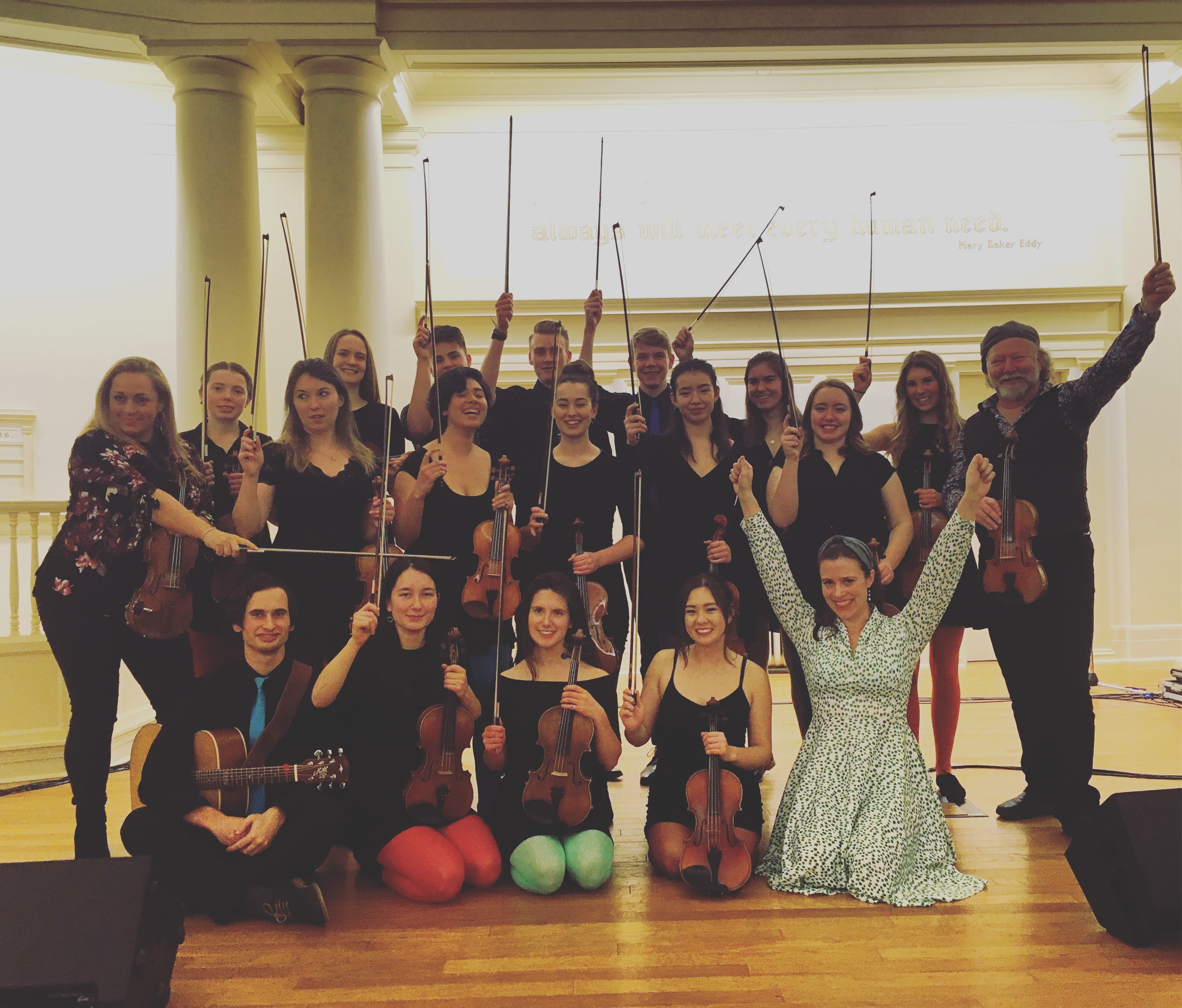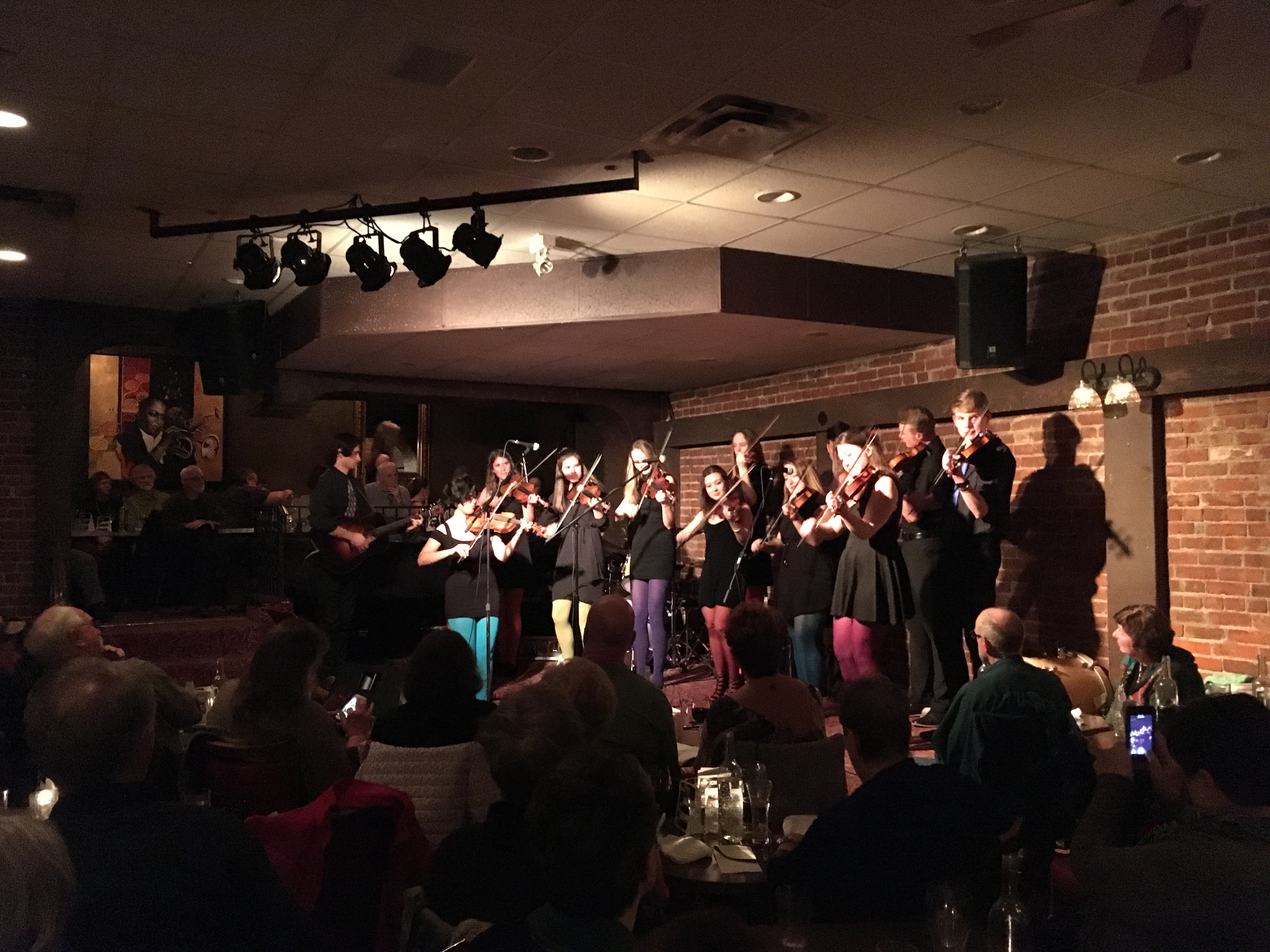 Sept 2017 - We have some super fun outdoor shows this fall around Victoria and can't wait to play for you after a bit of time off for some summer fun!
July 2017 - We have a bunch of fun shows coming up this summer around Victoria and at the Islands Folk Festival in Duncan. We hope to see many of you at these fun outdoor events! Check our tour page for info...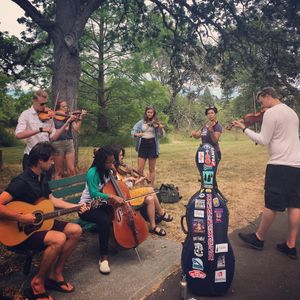 June 2017 - We had such a fun time in Calgary and we can't wait to show our new friends, The Calgary Fiddlers, OUR home now! We have a bunch of shows together in and around Victoria, including our big yearly concert, which is surely going to be a fiddlers heaven! Check out our Tour page for more details and come and see our awesome new friends.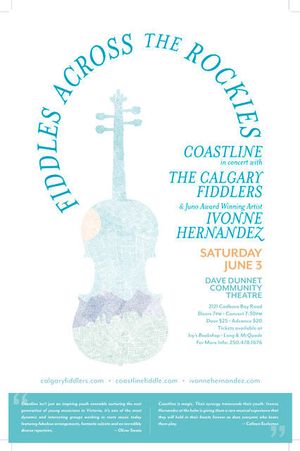 May 2017 - We are super excited to be going to Calgary and Banff and doing a mini tour and fiddle exchange with the Calgary Fiddlers! They are awesome and we can't wait for all the adventures and good times and new friends! Check out our photos page for more fun photos from our trip!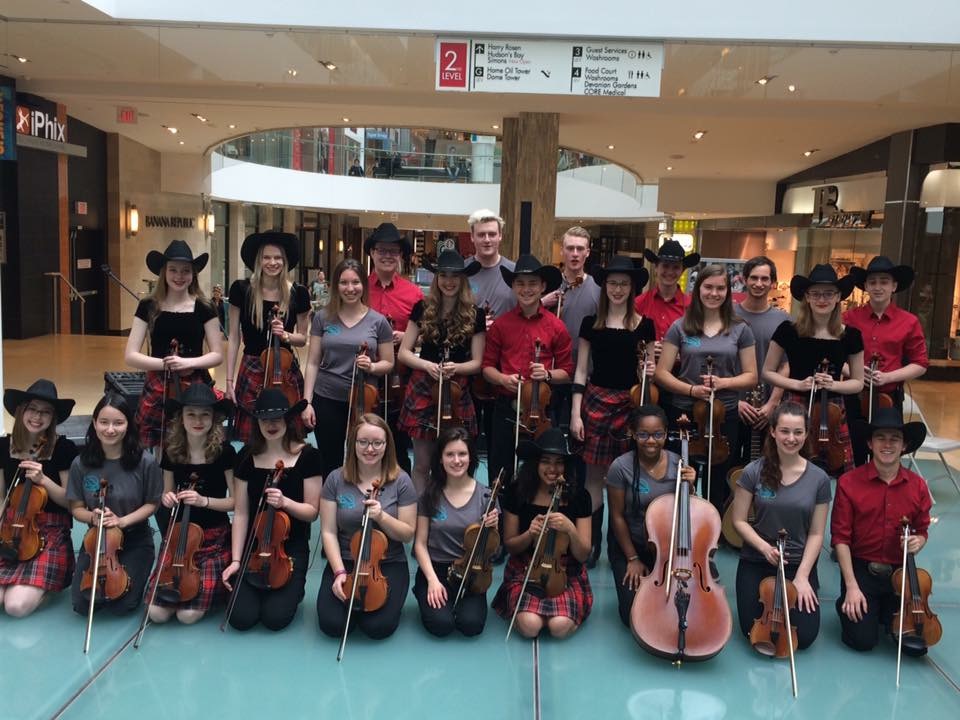 April 2017 - Our amazing teacher Ivonne just WON A JUNO for Instrumental Album of the Year!!!! We are SO thrilled and proud!!!!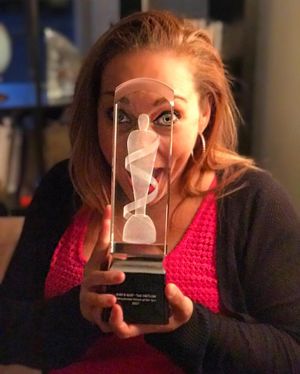 Dec 2016 - We have a brand new album we can't wait to show you all at our special pre-release concert! We have amazing special guests joining us for this exciting occasion: Oliver Swain, Genevieve and the Wild Sundays and Tad Ruszel. Plus, all of our graduated members are coming back to join us and we can't wait to play together again!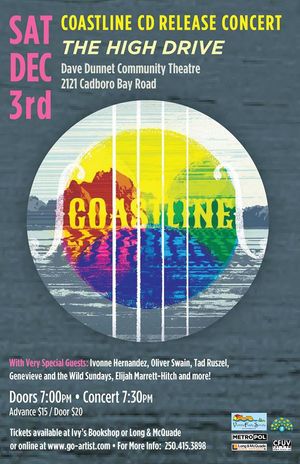 June 2016 - Wow! What an amazing and crazy busy week! We had a photoshoot with the always amazing Ryan MacDonald for the fun photoshoot. We then had rehearsals, media interviews, set up and soundcheck for the show, and then it was showtime! What an epic and super fun show! Massive thanks to Fintan O'Brien, Sarah Tradewell and Hale & Hearty, our parents for all the help, and of course Ivonne Hernandez for making everything happen! But, we couldn't party after the great show because the next morning we were in the studio ALL day ALL weekend recording our new album. What a rock star week we had. Thank you all SO much for supporting us as always!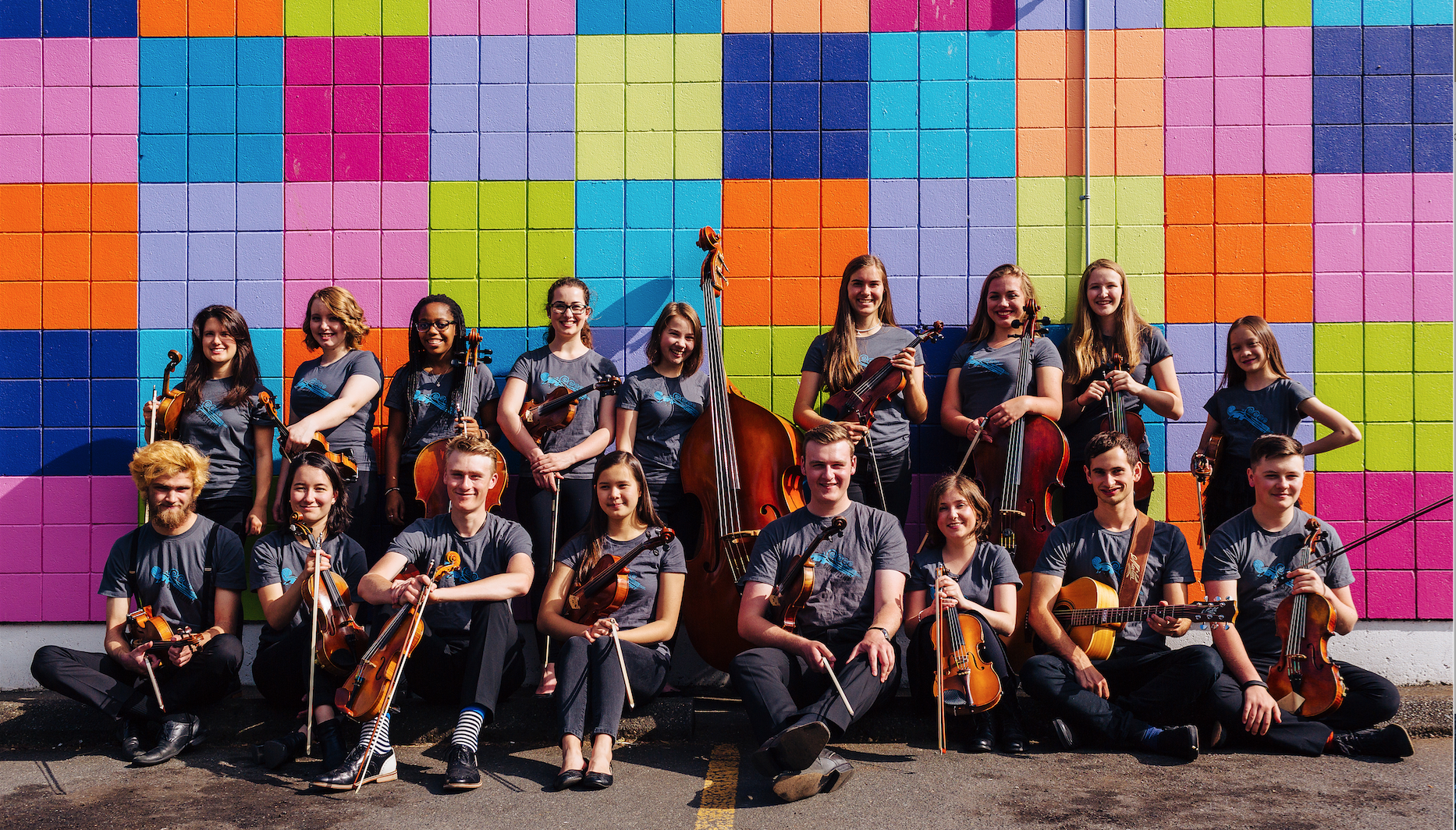 May 2016 - What an exciting month. We are so proud to have won the Large Ensemble at the Greater Victoria Performing Arts Festival for the 3rd year in a row! Also, massive congrats to Emma, Josh, Eamonn, Rowan, Janelle, Tuli, Sonya, and Rebecca for winning many other awards at the festival!

We are also playing at the Victoria International Highland Games again, which is always a great time!

And...we are really looking forward to our big show! Our Third annual Fundraising Concert. We have some awesome guests and new tunes and can't wait to play for you all in the beautiful new Dave Dunnet Theatre!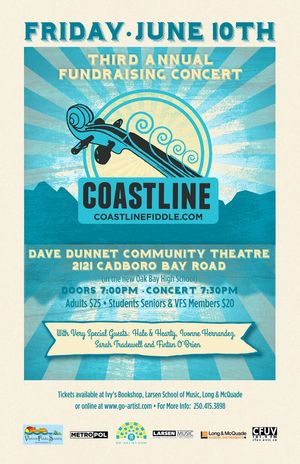 Apr 2016 - We had so much fun, as always, opening for and playing with Alasdair Fraser and Natalie Haas!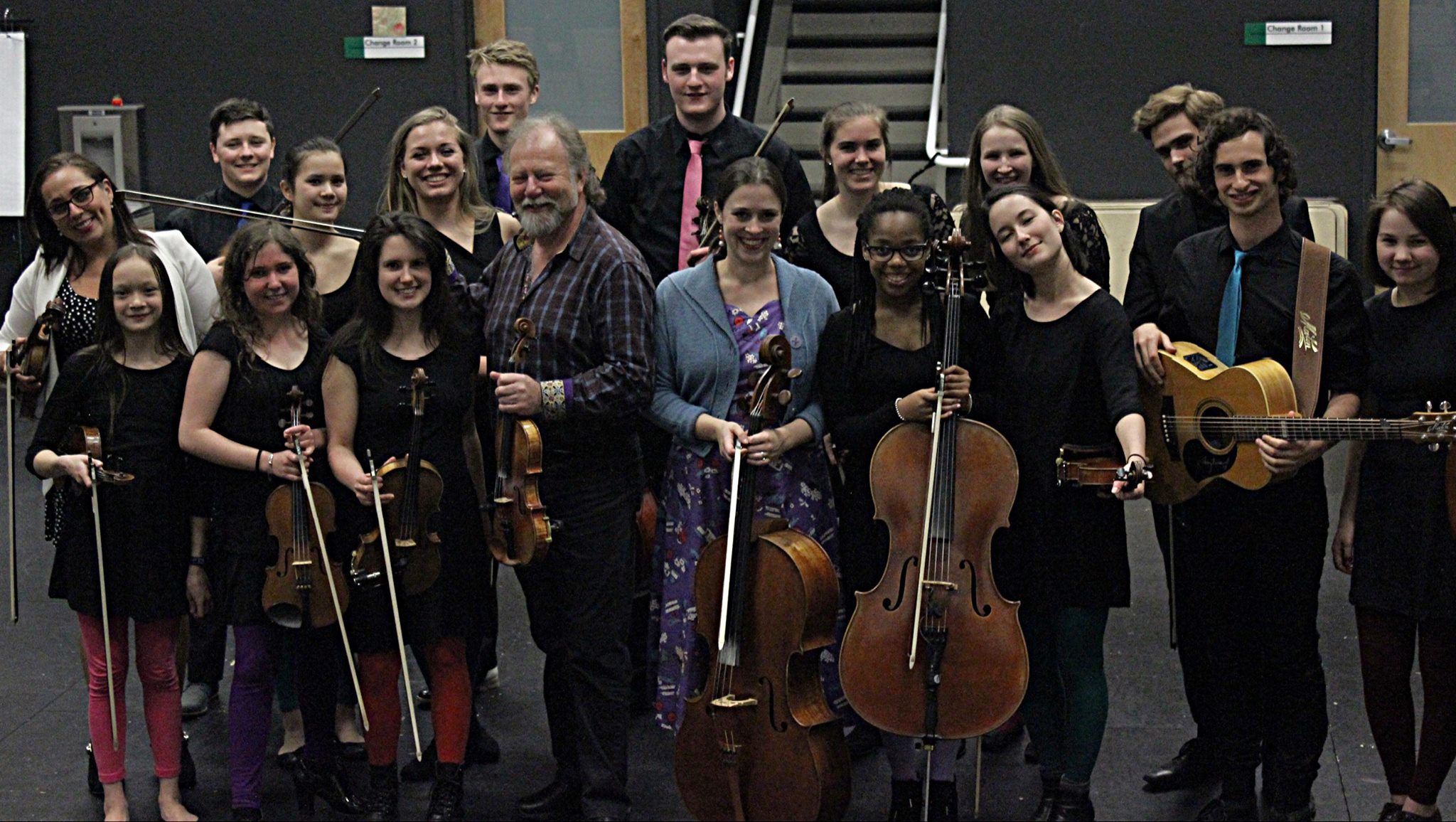 Jan 2016 - What an amazing weekend of concerts with the Gettin' Higher Choir. Fun collaborations and all 'round great energy...and SO many people, everyone didn't all fit on one stage! Thanks Gettin' Higher Choir for a fantastic time and all your support!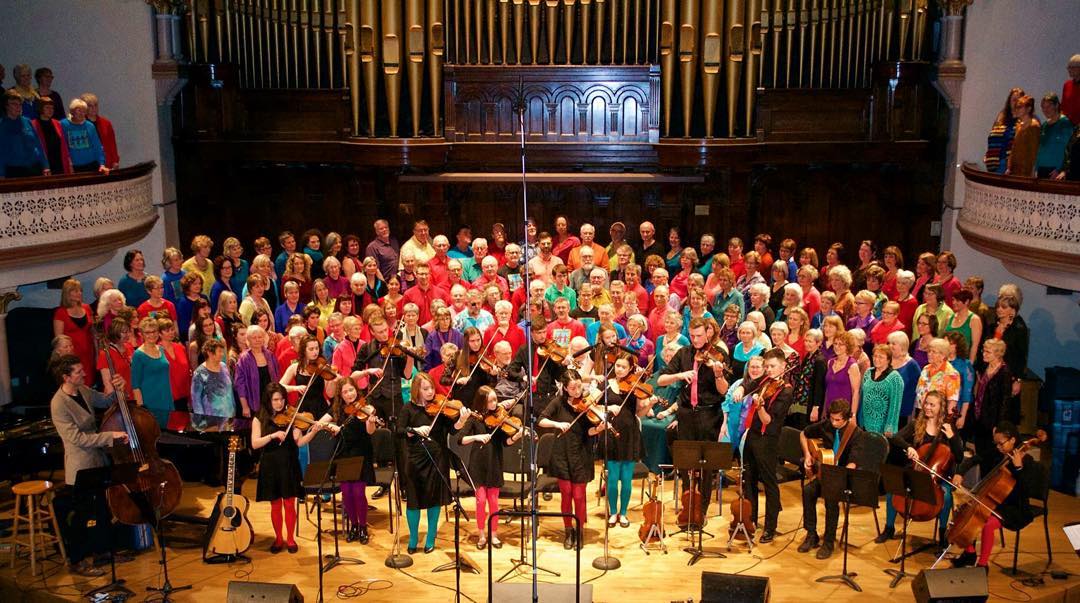 Nov 2015 - We are thrilled to be nominated for TWO 2015 Canadian Folk Music Awards for our debut album! We are nominated for Young Performer of the Year and Instrumental Group of the Year. We are so honoured to be in such amazing company!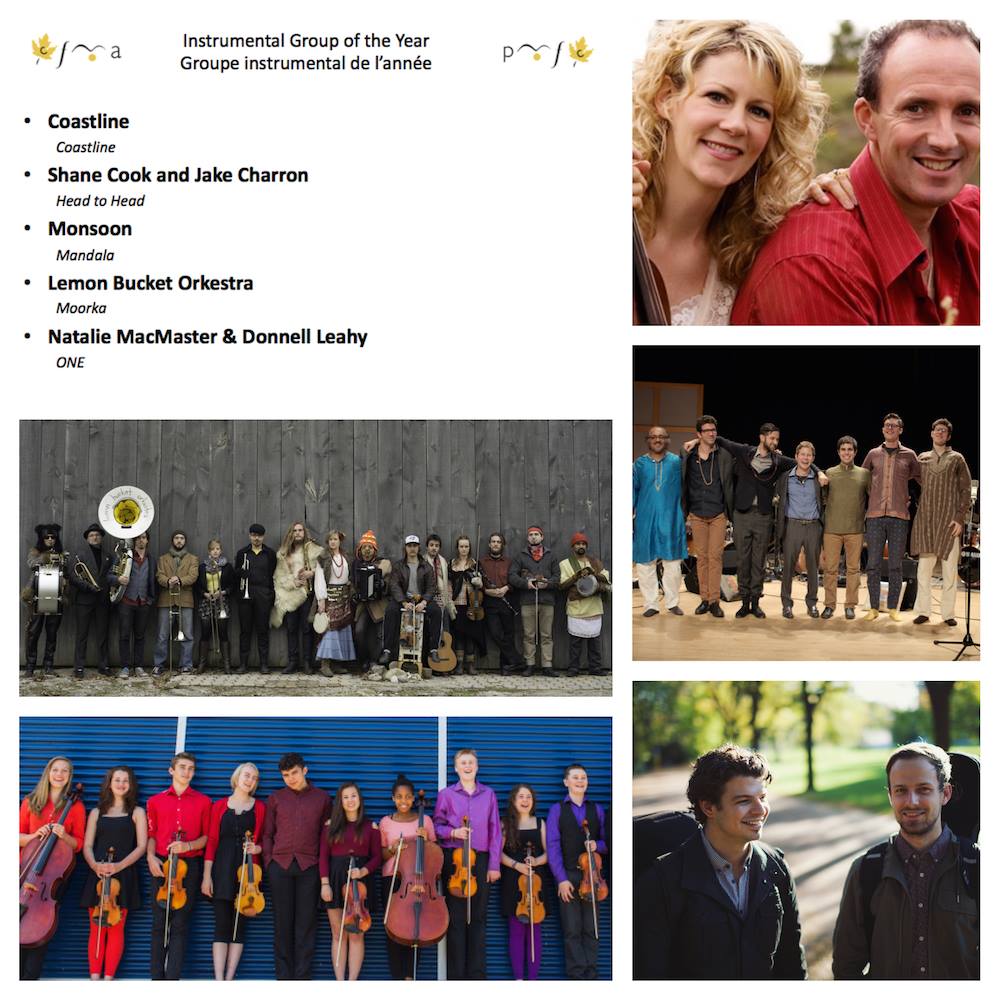 Aug 2015 - What an AMAZING time we had in Scotland! Thankyou to everyone who supported is in any way. We couldn't have done it without you, and we are sure glad to have had the experience! We met other amazing youth performance groups from around the world, from choirs, to acrobats to steel pan bands...and even got to collaborate with many of them. We were even featured in the massive final concert in the Kings Hall to end off the festival with all of our new friends. Everyone at the Aberdeen International Youth Festival was so wonderful to us and we are just buzzing!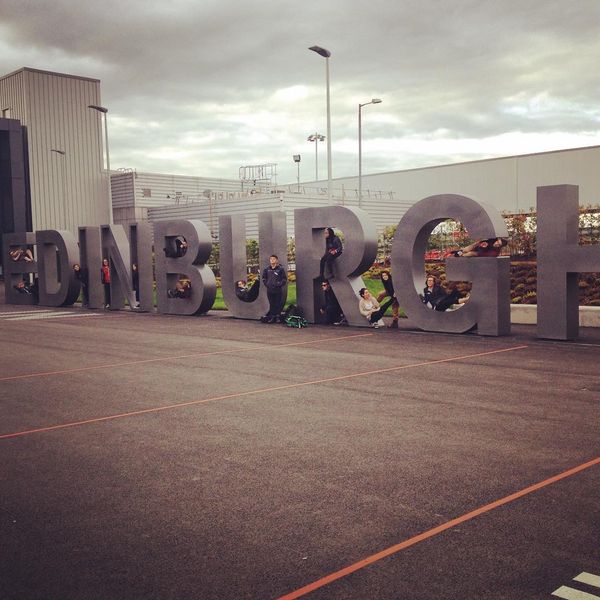 May 2015 - Wow! What amazing support and a packed house for our fundraiser concert. Thankyou ALL so much for your support and contributions to help get us to Scotland in July! We are humbled by the outpouring of support and can't wait to make you all proud. A massive thanks also to our friends Mairi Rankin, Nellie Quinn, Quinn Bachand and Colleen Eccleston who were our special guests. They are awesome and we love them and highly recommend you check them out with their bands when they are touring in your area!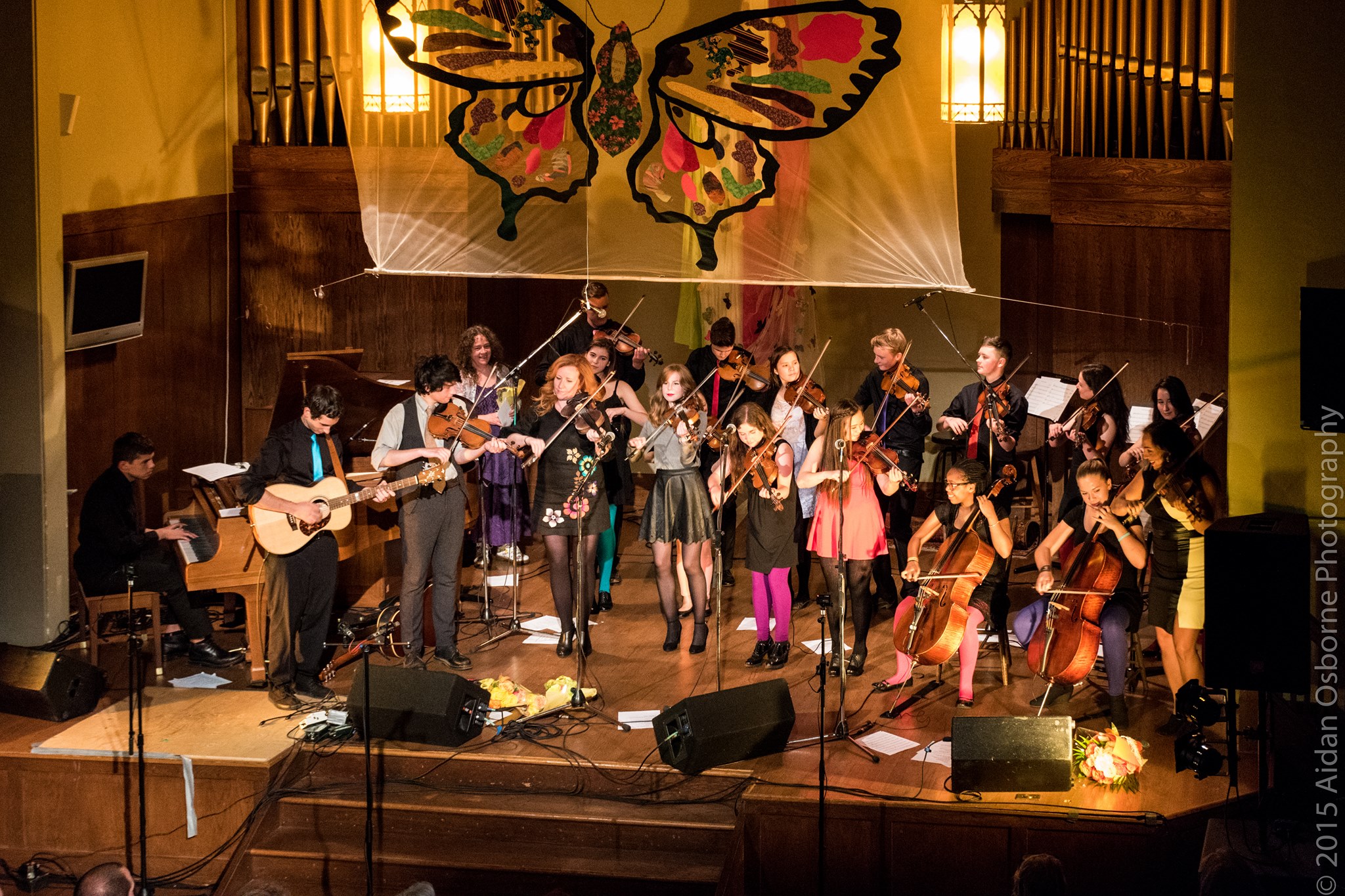 Apr 2015 - we are in FULL fundraising mode so we can get to Scotland! If you would like to help us, please come to our big Fundraising concert May 23, in Victoria at the Fairfield United Church. If you don't live in Victoria...you can still help us and donate online. Info is on our Sponsors page. Or come see us at one of our many upcoming shows!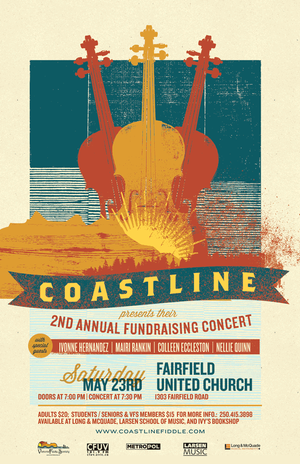 Mar 2015 -  What a great workshop with Boston's Katie McNally, Neil Pearlman and Shauncey Ali (composer of our fave tune Lua's Dance!). We even got to join them for some tunes at their wonderful show!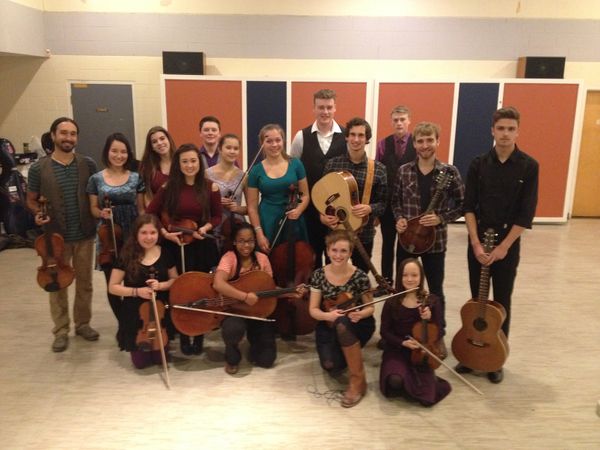 Feb 2015 - We are thrilled to announce that Coastline has been invited to represent Canada at the Aberdeen International Youth Festival in Scotland this summer! Check out all the fun here: http://www.aiyf.org/